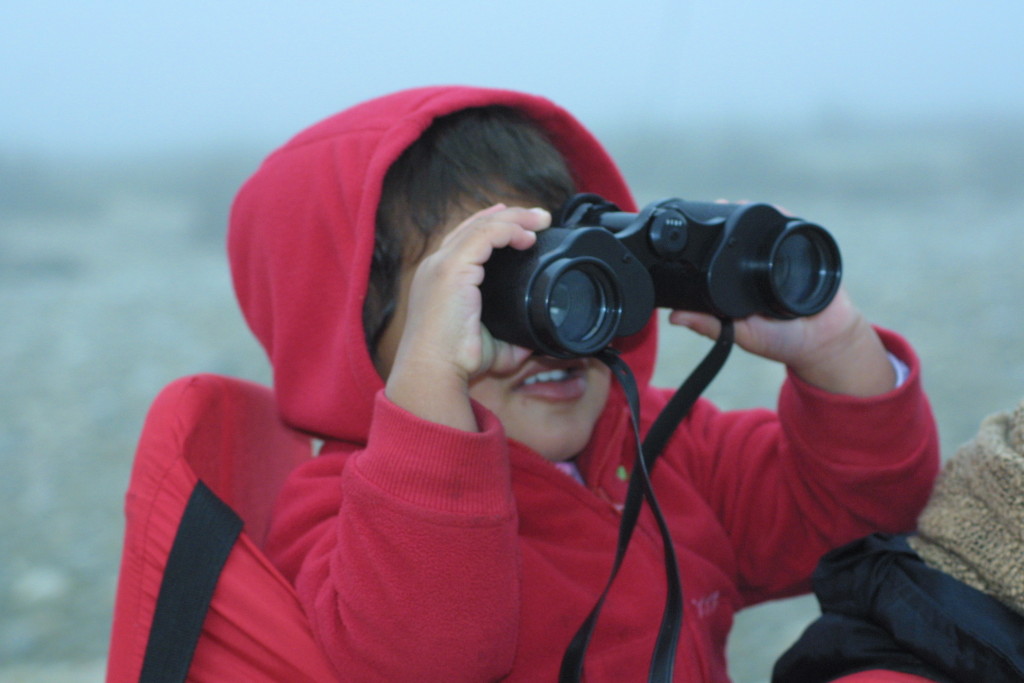 Hello again all. We are back from our trip to Chitwan Animal Preserve and had a great time. For those of you that are tired of my drivel and want a fresh narrative have I got a treat for you. Our traveling companion and friend Michele has agreed to supply this entry. I hope you enjoy…
Greetings everyone! I'm happy to be the guest blogger. I have been with John, Alisha, Sandeep and Shanti since December 29th, and I've been having a wonderful time seeing the sites and getting to know the newest members of the Hastings-Kimball family.I'm sure you will fall in love with Sandeep and Shanti, just like I have. They are great kids. And Alisha and John are doing a great job being Mommy and Daddy to these little ones. I am struck by their fortitude, and flexibility in being here, doing what they're doing.
Chitwan was really beautiful. Alisha and John's friend, Shanti (who we call "Medium Shanti) joined us. We had a bit of a delay leaving Kathmandu, as there was heavy fog in the valley. (Delays seem to be par for the course around here!)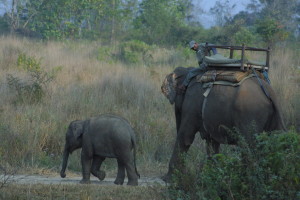 After landing at the airport near Chitwan, we hopped on our shuttle which took us to the park. Then we hopped on a big jeep and took a ride to our resort. The ride involved crossing a shallow river and going over some big bumps! Sandeep particularly loves bumpy rides like this. At Chitwan we went for a really peaceful canoe ride, we met an elephant (also named Shanti who we called "Big Shanti"), and later went on an elephant safari. One of the big momma elephants had just had a baby so her little baby elephant followed us through the jungle… SO CUTE! We had hoped to see some exotic animals like a tiger or the rare one horned rhino, but instead saw deer, wild boar, a couple of monkeys and some birds. The kids did really well at the resort.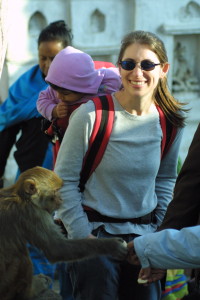 We met some folks from Greece who were really fun to hang out with, and Sandeep and Shanti both made fast friends with them. I know John and Alisha were particularly happy that Sandeep was opening up to new people so well. And Shanti had a blast on our second night there when we were treated to traditional Terai dancing. Shanti, of course, thought the dance was all about her and had everyone watching her dance as much as the pros.
We returned to Kathmandu yesterday afternoon, exhausted and sorely needing baths! (Our resort was more like an upscale camp) Today we had a relaxing day. John, Sandeep and I did some shopping. Then this afternoon we all went to Swayambunath, the monkey temple. The monkeys were hiding out a little because it was really crowded, but we were able to get a few shots of Alisha with a monkey.
My time here has been a once in a lifetime experience.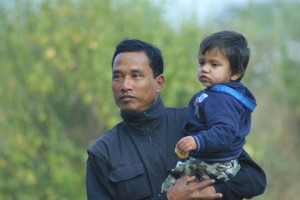 I'm so happy to have met Sandeep and Shanti and to spend so much time with them. I'm so happy to be their Auntie Mo, as they call me, and to be with Alisha and John at this amazing time. I also am so glad to have come to Kathmandu. It is like nowhere I've ever been- very intriguing, very beautiful and very human. Today John and I were in a bead shop talking to the shopkeeper and he mentioned that adopting a child is good karma… for the child and for the parents. And he said the kids were lucky… then John said "We're all lucky" And at that moment, I too felt lucky to be part of it all.
Wishing you blessings of peace.
Namaste,
Michele, aka Auntie Mo